Bachata Classes – Lessens & Bachata Courses at James & Alex Dance Studios;
The best Dance School and Dance Academy with the best Dance Curriculum and Dance Program in Dubai.
Bachata is a partner dance originating from the Dominican Republic. It has gained popularity worldwide as bachata music is becoming more mainstream. Common bachata dance styles are Dominican – traditional, urban and sensual. At James & Alex Dance Studios we do a fusion of these 3 styles.  Recently, Bachata Sensual became very popular in Europe; especially in Spain. Being a mix between dance and theatre with strict follow and lead principles, Bachata Sensual is a lovely interpretation of the music with mostly circular movements and body waves, in addition to using isolations and dips. Come and try our mixed Bachata fusion style that will soothe your heart and passion.
4-Week Bachata Courses
(Begin the first week of every month)
Level 1
Monday 7PM & Wednesday 7PM (1hr)
Level 2
Monday 8PM & Wednesday 8PM (1hr)
Level 3
Monday 9PM & Wednesday 9PM (1hr)
Workshop
Saturday 8PM (1hr)
Drop in class / Workshop – AED 75
8-hour package – AED 450 *Expires 3 months from date of purchase.
12-hour package – AED 650 *Expires 5 months from date of purchase.
4-Week Bachata Courses
Level 1 – AED 750 (once a week plus 2 private lessons)
Level 2, Level 3 – AED 250 (once a week)
Level 1, Level 2 & Level 3 – AED 450 (twice a week)
Private lessons – available upon request;
Special offer: 5 Private Bachata Classes for AED 1,100
Click below to view the famous bachata YouTube video that has over 75 million views!
What clothing should I wear?
Wear any clothing you'd wear on a regular day and shoes that won't slip off your feet easily or don't grip the floor too much.
NOTE: Please remember you are dancing with a partner so personal hygiene is important.
Am I too old to dance?
You are never too old to dance or to learn to dance! We have adults of all ages taking our classes so you will not feel out of place.
Do I need a partner?
No. We rotate partners throughout class so you'll get a chance to dance with everyone and meet new friends! 🙂
We have a great summer dance camp organized from 25 - 29 August…
http://jamesandalex.com/wp-content/uploads/2019/08/James-Alex-Dance-Studios-Summer-Camp-Aug-25-29.jpg
1080
1080
Eyad AlHafez
http://jamesandalex.com/wp-content/uploads/2014/11/James-Alex-approved-Logo.png
Eyad AlHafez
2019-08-24 18:46:56
2019-08-24 19:14:11
Don't Miss our Last Week of August Summer Dance Kids Camp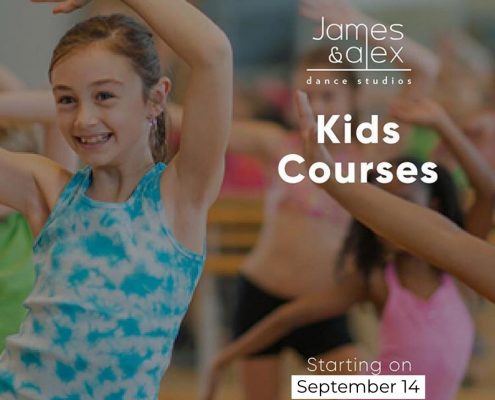 Our next term starts on 14th of September and ends on 14th of December…
http://jamesandalex.com/wp-content/uploads/2019/08/James-Alex-Dance-Studios-Sep-2019-Kids-Dance-Term.jpg
1080
1080
Eyad AlHafez
http://jamesandalex.com/wp-content/uploads/2014/11/James-Alex-approved-Logo.png
Eyad AlHafez
2019-08-24 18:31:00
2019-08-24 19:15:45
New Kids Term Starting 14th September 2019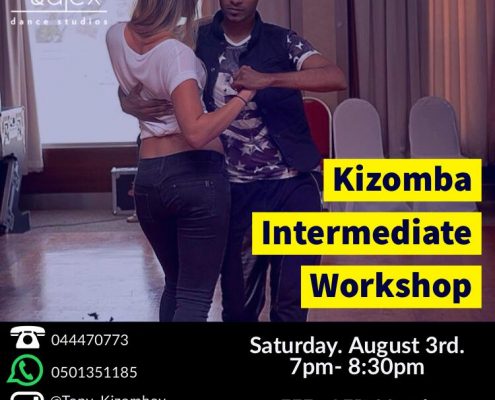 http://jamesandalex.com/wp-content/uploads/2019/07/Kizomba-Dance-Workshop-James-Alex-Dance-Studios.jpg
758
750
Eyad AlHafez
http://jamesandalex.com/wp-content/uploads/2014/11/James-Alex-approved-Logo.png
Eyad AlHafez
2019-07-31 16:07:04
2019-07-31 16:07:04
Join the KIZOMBA Intermediate Workshop with the Greatest Tony Kizomboy - Saturday Aug 3rd, 2019 From 7 - 8:30 PM
http://jamesandalex.com/wp-content/uploads/2019/07/James-Alex-Dance-Studios-Latin-Mix-Private-Classes.jpg
1080
1080
Eyad AlHafez
http://jamesandalex.com/wp-content/uploads/2014/11/James-Alex-approved-Logo.png
Eyad AlHafez
2019-07-31 16:05:16
2019-08-24 18:23:22
Special Offer - 10 Discounted Private Latin Mix Dance Classes (Salsa, Jive, Bachata, Cha Cha)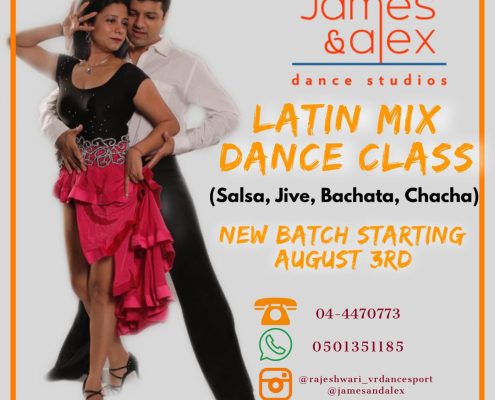 http://jamesandalex.com/wp-content/uploads/2019/07/Latin-Mix-Dance-Classes-James-Alex-Dance-Studios.jpg
1080
1080
Eyad AlHafez
http://jamesandalex.com/wp-content/uploads/2014/11/James-Alex-approved-Logo.png
Eyad AlHafez
2019-07-31 15:28:05
2019-07-31 15:46:05
Introducing Latin Mix Dance Classes (Salsa, Jive, Bachata, Cha Cha), Every Saturday & Tuesday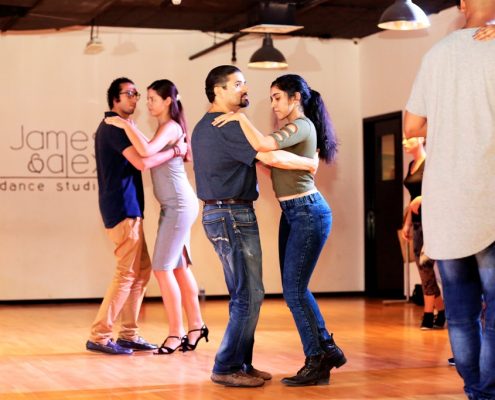 SaturdaySalsa Level 1:          5-6pmSalsa Level…
http://jamesandalex.com/wp-content/uploads/2018/12/Kizumba-1.jpg
683
1024
Eyad AlHafez
http://jamesandalex.com/wp-content/uploads/2014/11/James-Alex-approved-Logo.png
Eyad AlHafez
2019-03-11 15:16:41
2019-07-31 16:23:00
Salsa, Bachata & Kizomba Courses Starting Aug 3rd, 2019
http://jamesandalex.com/wp-content/uploads/2019/03/Stathis-Joanna-Tango.jpg
1000
663
Eyad AlHafez
http://jamesandalex.com/wp-content/uploads/2014/11/James-Alex-approved-Logo.png
Eyad AlHafez
2019-03-05 17:40:54
2019-03-11 16:25:29
Join our Tango Classes with Stathis & Joanna - Sunday and Tuesday 9pm